AmpBar


---
Overview

AmpBar is an MP3 player and ID3v2 tag editor. AmpBar can run as an auto-hidden window across the top or bottom of the screen to keep the screen real estate used to a minimum. To access AmpBar in this state simply move the mouse pointer to the edge where AmpBar is hiding and AmpBar will slide out, allowing interaction. The ID3v2 tags used are compatible with MusicMatch Jukebox. Including the Art tags!

A tray icon is also available that provides control over most of the features of AmpBar.
Download
To install, unzip everything into a temporary directory and run Setup.exe

Please download the file from ZDNet Downloads

Downloading from ZDNet Downloads helps us keep a count of how many people are using AmpBar.

If their version is out of date you can grab the latest version here: AmpBar.zip

Note: when you first run AmpBar you will want to shrink the window (by clicking the bottom edge and dragging up) and turn auto hide on (by right clicking in the window to bring up the menu and selecting Autohide).
Support
E-Mail Questions & Comments: ampbar@practical-ingenuity.com
Check out our new Message Board
Change History
10/9/00


Version 0.9d Beta Released.
Changed the icon for No Repeat.
Removed APL support and replaced it with M3U support.
Equalizer is active by default.
9/27/00


Version 0.9c Beta Released.
Fixed a bad bug with the JPEG libraries.
9/8/00


Version 0.9b Beta Released.
Fixed a bug that lead to the first track sometimes being played forever.
9/6/00


Version 0.9a Beta Released.
Added multiple select to file dialogs where appropriate.
Fixed problems with Preview dialogs on Win98 and Win2K that occured when resizing the dialogs.
Added two new menu items: Associate MP3s and Ignore FullScreen. Previously these were only available as registry settings.
Fixed a bug that lead to the first track sometimes being played twice.
2/28/00


Version 0.5c Beta Released.
Minor cosmetic updates.
2/26/00


Version 0.5b Beta Released.
Fixed problems with tooltips in the PlayList.
Fixed yet another problem with non-existant files, selecting Track Information from the context menu in the PlayList no longer causes a crash.
2/24/00


Version 0.5a Beta Released.
Added file status overlays to the playlist.
Fixed almost all problems with non-existant files.
2/23/00


Version 0.4b Beta Released.
Corrected a stupid collision problem on the cache file between the various threads.
Corrected some of the problems with non-existant files.
2/22/00


Version 0.4a Beta Released.
New caching mechanism implemented.
Added the ability to reverse the PlayList.
Added the ability to configure what is displayed in the center column of the PlayList.
2/19/00


Verion 0.3a Beta released.
Help file added.
Installation routine created.
2/17/00


Verion 0.2a Beta released.
Track time added to playlist.
2/15/00


Verion 0.1a Beta released.
11/11/99 - 2/14/00


Updating the playlist from a separate thread.
Added tray icon.
Drag-N-Drop playlist support added.
Migrated to ID3v2 tagging.
Added ID3 tagging.
Added an art database to associate images with tracks.
Switched to X-Audio audio engine.
Initial development started.
More Screenshots
AmpBar has four sizes:


Minimum



Small




Medium



Large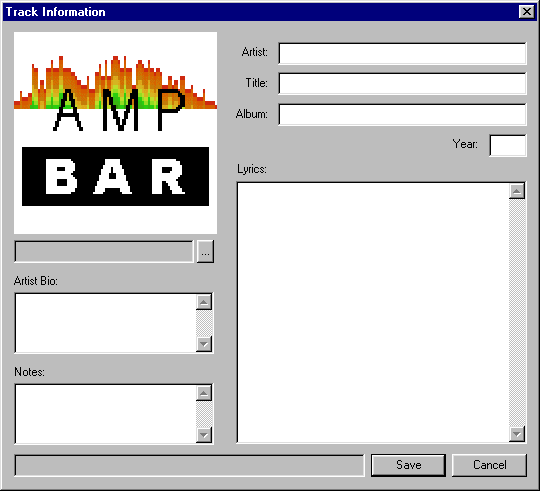 Track Information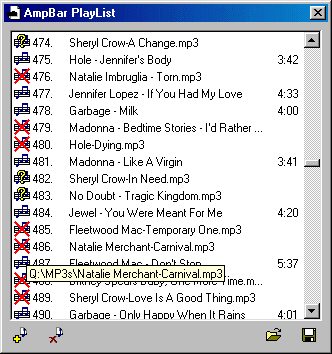 Playlist



Copyright © 1999-2000 Michael O. Schoneman